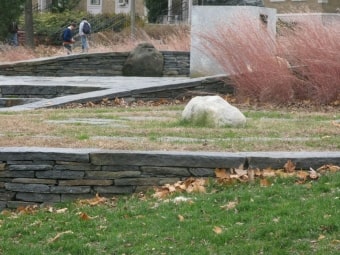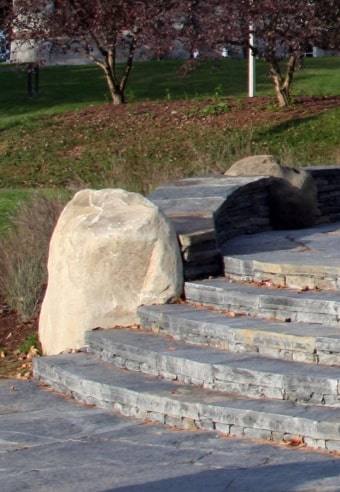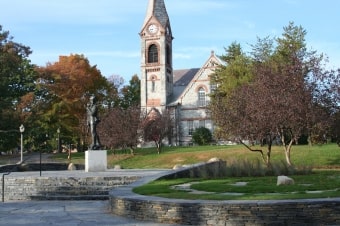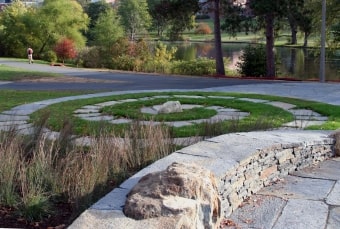 On Thursday, Dodson & Flinker, Inc. was pleased to accept an Honor Award from the Western Massachusetts chapter of The American Institute of Architects for the Minuteman Crossing plaza at the University of Massachusetts, Amherst.
The Minuteman Crossing design provides universal access and seating around a statue of a Minuteman, the symbol of the University.  The statue previously stood remotely—and largely ignored—on a small knoll near a busy pedestrian crossroads in the center of the UMass campus on the west side of campus road.  D&F connected the statue to the existing pedestrian routes through a friendly yet dignified, whimsical and sometimes enigmatic pedestrian plaza built by hand by local contractors using local Ashfield schist.
The design began with preliminary concept plans developed by local artist John Senderlbach.  The team then refined and transformed these concepts in consultation with Campus Planning Staff and the Class of '56 Advisory committee, who raised funds to help finance the project.
WMAIA jurors praised the "excellent resolution of the site issues, pedestrian circulation, and excellent execution and use of materials…".  Other members of the project team included sponsor Scotty Donald (UMass Class of '56), stone mason Arturio Diaz (Mass West Construction), and project manager Bruce Thomas.