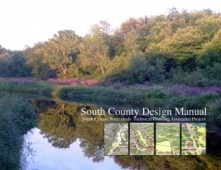 Rhode Island Rural Design Manual
The manual compares historic development patterns and design traditions to today's common practices, and suggests some alternatives that meet the demands of the modern marketplace with designs that fit in with the character of Rhode Island's rural towns.
Eight design scenarios were chosen for discussion, representing a cross section of possible development types, transportation issues, environmental challenges and social contexts. The manual discusses overarching design principals, including concepts of mixed-use development, pedestrian-friendly design, and livable neighborhoods, and applies them to a larger discussion of each type of landscape scanario and the development context that each site represents.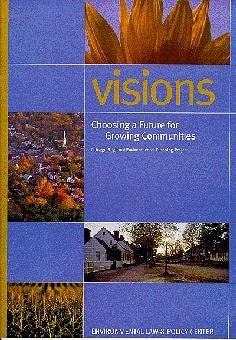 Visions: Choosing a Future for Growing Communities
The Visions Project features four communities in the Chicago metropolitan area. Through a public process, design scenarios were illustrated for each community discussing future growth. The scenarios show conventional development where sprawl continues to hold sway, or Smart Growth where a new land use philosophy gains favor.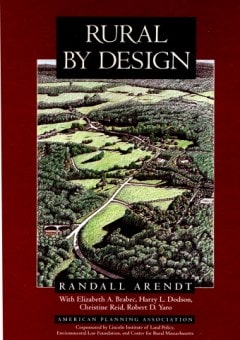 Rural by Design
A sequel to the Connecticut Valley Design Manual, Rural by Design presents detailed case studies, implementation techniques and specific factual information on rural planning and design techniques that preserve open space and reflect regional historic character. Dodson & Flinker developed many of the planning and design techniques and applied them in several of the successfully completed projects described in the case studies and implementation sections of the book.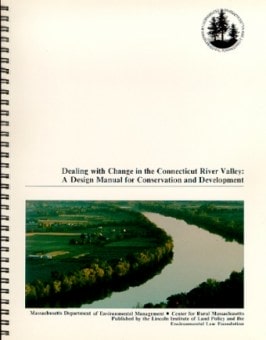 Dealing With Change in the Connecticut Valley: A Design Manual of Conservation and Development
This award-winning manual describes and illustrates new site planning and design techniques based on scenic and historic land use patterns typical of the rural Connecticut Valley region of western Massachusetts. Dodson & Flinker was responsible for the site planning and design recommendations described in the book. The firm also prepared all the plans and were responsible for the layout and graphic design of the publication.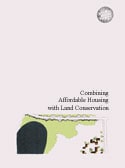 Combining Affordable Housing with Land Conservation
Co-authors Harry Dodson of Dodson & Flinker and Mark Zenick of the Franklin Land Trust outline principles and techniques for limited development projects incorporating both significant open space preservation and affordable housing, including specific case studies and development pro-formas. The book bridges the gap between conservation and development.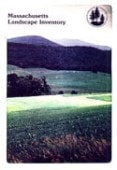 Massachusetts Landscape Inventory
A comprehensive survey of Massachusetts' scenic landscapes documented with detailed maps, text, photographs and a description of the methodology used to assess visual quality. The Landscape Inventory has played a critical role in landscape conservation by state, local and non-profit land conservation groups and has also been instrumental in stopping or modifying development proposals in scenic landscapes.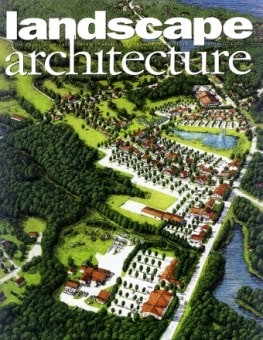 Articles
Articles featuring Dodson & Flinker's work have appeared in the the following publications: The New Yorker, The Boston Globe, Planning Magazine (American Planning Association), Preservation News (National Trust for Historic Preservation), Maine Growth Management News, American Land Forum, Landscape Architecture Magazine, and many other magazines, newspapers and other publications.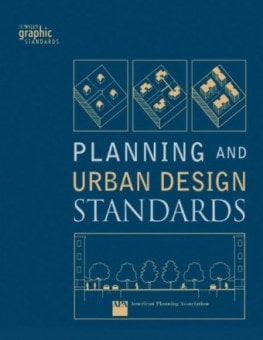 Books
Books featuring Dodson & Flinker's planning and design work include the following:
The Experience of Place by Tony Hiss, Alfred A. Knopf, New York, 1990.
The Hidden Design in Land Use Ordinances, Paula Craighead, University of Southern Maine, 1991.
The New Urbanism, Toward an Architecture of Community, by Peter Katz, Mcgraw Hill, New York, 1994
The Fragmented Metropolis: Improving the New City, Restoring the Old City, Reshaping the Region, Jonathan Barnett, Harper Collins, 1995
A Region at Risk: Third Regional Plan for New York Metropolitan Area, Robert Yaro and Tony Hiss, Regional Plan Association, 1996
Using Smart Growth Techniques as Stormwater Best Management Practices, United States Environmental Protection Agency, 2005.
Planning and Urban Design Standards, American Planning Association: John Wiley & Sons, Inc, 2006