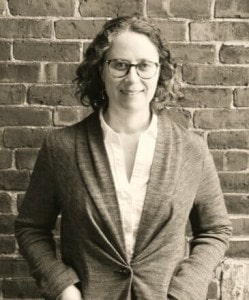 Dodson & Flinker welcomes Helena Farrell to the team. Helena holds a Masters in Landscape Architecture and a BA in Cultural Geography and Sustainable Human Habitat from the University of Massachusetts. Before joining Dodson & Flinker, she has worked in a range of professional teaching, planning, and design roles building expertise in regenerative landscape design, local food systems, land use planning, land management, and nature-based solutions for climate resilience. While working as a Landscape Designer for Regenerative Design Group, she was integral to innovative design projects including the BSLA award-winning Fowler Clark Urban Farm.
In addition to Food Systems, Open Space and Recreation, and Hazard Mitigation plans, Helena's major planning projects include developing regional toolkits for implementing stormwater green infrastructure, pollinator habitat corridors, and river corridor management areas across multiple scales.  Her recently published chapter in the Springer Nature textbook series Teaching and Learning in Urban Agricultural Community Contexts showcases her interdisciplinary, systems thinking approach to the research and design of urban farms. She has taught for the UMass Sustainable Food and Farming Program and been an invited lecturer and studio guest critic at UMass, Harvard, Yale, and Smith College.
Helena has practical experience managing landscape construction projects, conducting in-the-field assessments of critical infrastructure, and assessing nature-based solutions in a range of urban and rural settings. She is adept at engaging clients and stakeholders in thinking about how all landscape design and planning projects can be climate resilience projects. More than 10 years of experience has prepared Helena to merge regenerative land management and conservation practices with climate resilient planning and design so that every site and community can be prepared for the increasingly severe impacts of climate change.​