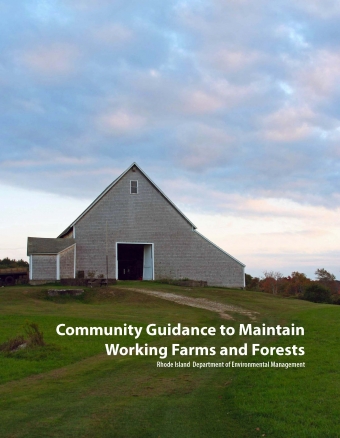 We are pleased to annouce the publication of Community Guidance to Maintain Working Farms and Forests, a report for the Rhode Island Department of Environmental Management. Dodson & Flinker collaborated with Horsley Witten Group and the American Farmland Trust to author the report.
The following is an excerpt from the report introduction:
Since the advent of zoning, communities have segregated commercial and residential uses into distinct districts. Typically most business uses are precluded in a
residential zone. As a result, commercial activities are directed to specific zones – often along arterial highways – where automobile-dominated strip development creates traffic problems and replaces scenic views with parking lots. Meanwhile, landowners who historically were able to use their land for a variety of businesses can no longer do so – hampering their ability to make a living for themselves or create jobs for other people in the community. The vast majority of land in rural Rhode Island is zoned for residential use – even if the current use is in fact agriculture or forestry. While farmers can generate revenue from selling their crops, profits can be modest in the best of years – and when the only other option is to sell the land for residential development it is no wonder that so many farms have been subdivided. On forested land, the available cash flow from sale of timber products is even less likely to sustain landowners. For many landowners, splitting off a few house lots from time to time becomes the only way to keep up with expenses. The economic pressures on landowners, combined with the restrictions of traditional zoning, contribute to a haphazard, sprawling pattern of development that is often at odds with a town's goals to protect rural character and quality of life while encouraging appropriate economic development. It also works against elements of the State Guide Plan, including Land Use 2025, the Rhode Island Strategic Plan for Agriculture, and Ocean State Outdoors: Rhode Island's Comprehensive Outdoor Recreation Plan (SCORP).
The purpose of this project was to help towns to provide economic incentives for landowners to preserve their land in agriculture or forestry. The focus of this effort is to identify appropriate business uses of farm and forest lands, and to explore how towns might encourage such activities through changes in planning policies, zoning and other regulations. The primary objectives for this project include:
Identifying small business uses or commercial operations that will help maintain the viability of our farms and provide incentives to limit the development of working farm and forest lands.
Developing performance standards for these activities that will allow them to coexist within residential zones with neighboring homes and other uses.
Crafting regulatory guidance that communities can use to shape local ordinances that allow for new businesses, help bring existing operations in residential zones into conformity, and apply reasonable performance standards.
More information is available on the Farm & Forest Project Page and a full copy of the report is available from the RI DEM.