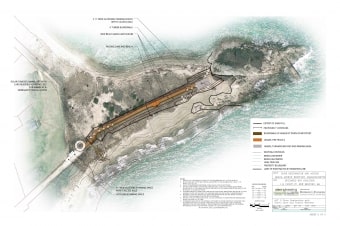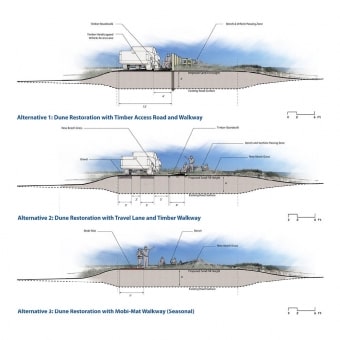 In 2015, D&F has had the opportunity to work with a number of local governments and non-profits to improve the resilience and accessibility of southeastern Massachusetts' coastal landscape.  With sea levels rising and coastal population centers throughout New England continuing to feel the pressure to grow, the need has never been greater for planning and design that recognizes and responds to the complex processes and interests at work shaping our coasts.
Town Beach Feeder Beach: D&F, with a design team led by Stephen Kelleher Architects, has been working to develop a design for beach access and nourishment in Swansea, MA.  We are particularly excited about our proposed beach nourishment strategy, a "feeder beach" which will rely on shoreline processes to distribute sand along the beach, minimizing the need for costly and damaging bulldozers near the constructed dunes and beach.
Knubble Dune: In spring/summer 2015, D&F worked with CLE engineering and Buzzards Bay Coalition to generate ideas for how to improve access and resilience of a dune area adjacent to a point of rocks in Westport, MA, known as the Knubble.  We developed a series of illustrations to help the project team and town visualize alternatives that sand fill and additional dune plantings with pedestrian and light vehicle access.